2015 Porsche Cayenne S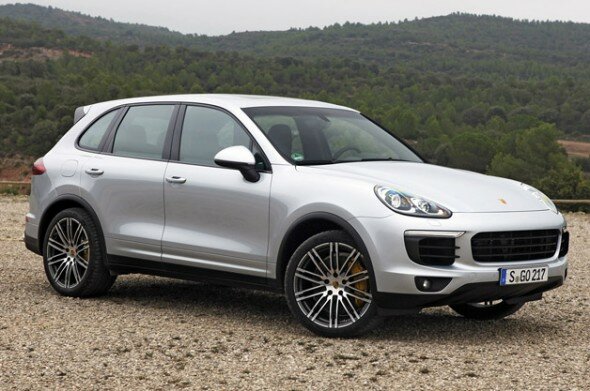 All 2015 Cayennes get subtly reworked front and rear ends, with a wider looking nose and bladed intakes feeding intercoolers, while reworked headlamps and taillights emphasize a family resemblance to the Macan. New suspension bushings and bearings combined with reworked shock internals provide sharper handling and a greater range of damping adjustability, while the standard equipment list gets a much needed boost, so to speak, with features like auto stop/start and bi-Xenon headlights. New options include rear seat air vents and smart cruise control, among others. But apart from the S E-Hybrid's new plug-in configuration and its lithium-ion battery, the most notable change in the lineup is the Cayenne S's jettisoning of the V8.
On paper, the Cayenne S' new turbo V6 beats the V8 by a kilometer. The engine, sourced from the Macan Turbo, has been coaxed to produce 420 horsepower (20 more than the previous-gen S) and 406 pound-feet of torque – twist that's identical to the torque-tastic Cayenne Diesel. Even better, the latter's plateau starts 500 rpm earlier than the glow plug-equipped model, at a loping 1,350 rpm. Compared to its predecessor, specific output climbs 40 percent to 117 hp/liter, and 0 to 62 mph comes 0.4 seconds quicker, arriving in as little as 5.1 seconds with the optional Sport Chrono package (5.2 seconds without). Oh, and the new powerplant is also more fuel-efficient.
What does the right brain (seat of the pants) make of the Cayenne S' left brain (spec sheet) upgrades? Upon sliding into the Cayenne's snug driver's seat, you're met with a new, 918 Spyder-derived steering wheel and Porsche's big, familiar, in-your-face analog tachometer. Flanking the tach are two smaller gauges on either side. In other cabin news, the array of buttons along the center stack and overhead cluster offer something of a jarring contrast against the Nordically sparse periphery, while the "Oh $#!+!" grab handles astride the transmission tunnel offer a not-so-subtle hint at the Cayenne's capacity for torso-tossing G-forces.
Source: Full Story On Autoblog