2015 Porsche 911 GTS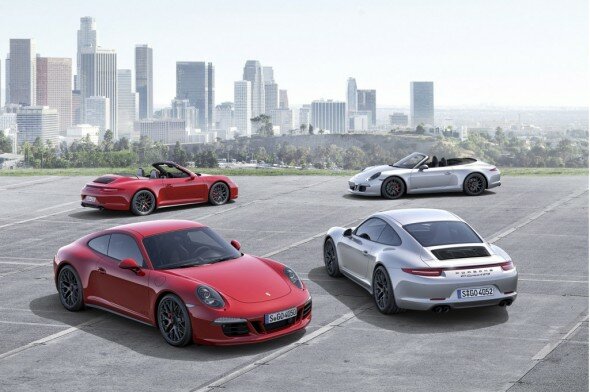 Porsche is sticking to a well-proven recipe with the GTS versions of its current 911. As before, the brand claims that the GTS models "close the gap" between the Carrera S and the delectable GT3. But in fact, the new variant is positioned much closer to the S versions, which its flat-six eclipses by 30 horsepower. Available as a coupe and a cabriolet and with both rear- and all-wheel drive, there is a GTS for almost everyone in the lineup, provided they can pay the price of entry—which is significantly higher than the S models before you start accounting for options. The GTS is significantly better equipped than the S; it starts at $115,195 for the rear-drive coupe and rises to $133,795 for the all-wheel-drive 4 GTS cabriolet.
In addition to the extra power, GTS cars also get the Sport Chrono package, which sharpens the 911's responses at the push of a button; PASM active suspension, which can drop the car by 0.4 inch; a dynamic light system with bixenon headlamps; and an interior swathed in faux suede and leather.
The extra punch of the 430-hp engine pushes the 911 Carrera GTS coupe up to 190 mph in rear-wheel-drive/manual-transmission configuration, 2 mph higher than the 400-hp Carrera S. (The other configurations all reach at least 186 mph.) Acceleration figures improve slightly, with Porsche claiming that coupes hit 60 in 4.2 seconds with the seven-speed stick and 3.8 with the seven-speed dual-clutch PDK automatic; cabriolets should turn in 4.4- and 4.0-second time slips. Our tests of the various Carrera models indicate those estimates should be accurate within a tenth or so either way. Folks not lucky enough to be inside will at least be treated to the extra-aggressive soundtrack of the standard sport exhaust system.
Source: Car and Driver | Porsche