New Porsche Cajun compact SUV to be produced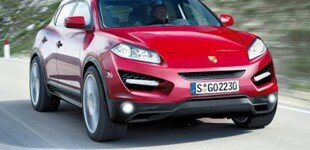 Rumours of a possible baby Cayenne model have been circulating for a long time now, and finally it looks like a compact Porsche SUV might make it to market under the name of the Porsche Cajun. Volkswagen AG CEO Martin Winterkorn announced the possibility in an interview with Der Spiegel German magazine, saying that Porsche will release: "a new SUV, smaller brother to the Cayenne which might be named Cajun".
The move is part of expansion plans to the Porsche line-up to increase sales and should offer Porsche fans more than just the classic coupé models. Some problems with competition among the VAG brands might occur as the Porsche Cayenne shares the same platform with the Volkswagen Touareg and the Audi Q7.
However, we expect that the Porsche compact SUV would be aimed at a different market and certainly at a different price point. It may be joined by a small sports car as Porsche seeks to double sales to 150,000 units comprised of both its sports cars and SUV models. According to the reports from Germany, we could see the compact SUV appear sometime in 2014 or 2015.