Ferrari 458 Italia VS Ducati 1198S!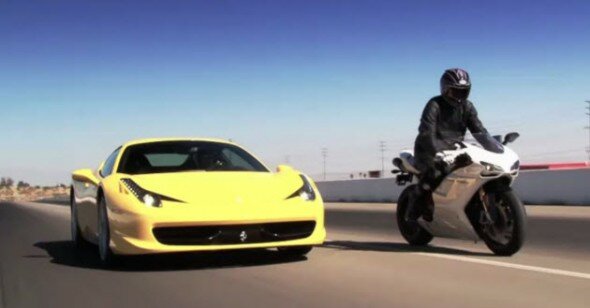 Italy produces machines that look good rolling slow or screaming towards the ever evasive horizon, so it's no surprise that Motor Trend decided to pit two of the boot country's finest against each other: the Ferrari 458 Italia and the Ducati 1198S. Both are exotic machines with a laser-focus purpose crafted into each example built: Be. Fast.
The buff book boys were kind enough to have their cameras rolling as the 458 and 1198S faced off in two competitions. First up is a head-to-head race followed by a lap around the Streets of Willow. The result? While the Ferrari is an amazing machine, the Duc's power-to-weight simply laughs in the face of the V8-powered Prancing Horse. See for yourself by watching the video after the jump, then check out the accompanying article in the link below. Grazie per la punta, Steve!
[Source: Motor Trend]