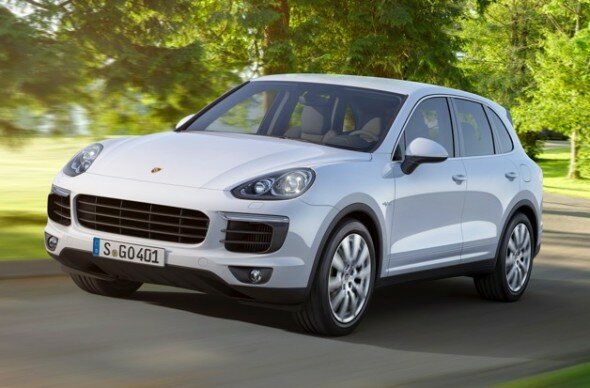 The 2015 Porsche Cayenne S E Hybrid will be an all-new model, one that adds a plug – and the required associated technological bits – to the currently available Cayenne S Hybrid. The most important of those bits is a 10.8-kWh lithium-ion battery, but Porsche's Calvin Kim told AutoblogGreen that the SUV's electric-only range is still pending certification, but Hybrid Cars says that Porsche is estimating it'll be somewhere between 11 and 22 miles, "depending on the style of driving and route topography."
Other than the new battery, the electric motor has been upgraded to a 95 horsepower/70 kW unit (up from the 47-hp/34 kW motor in the Cayenne hybrid without a plug). The overall powertrain now puts out a total of 416 hp and can go from 0 to 60 miles per hour in 5.4 seconds. Alongside the electric parts, there's a 3.0-liter supercharged V6 engine and an 8-speed automatic transmission. The SUV will go on sale in the US on November 1, 2014 with a starting MSRP of $76,400, plus a destination charge of $995.
Porsche is also proudly saying, once again, that it will be the world's only automaker offering three plug-in hybrid models, once the Cayenne S E-Hybrid hits the market. The others are the Panamera S E-Hybrid and the 918 Spyder. How long will this reign at the top last?
Source: Porsche | Autoblog