Champion Motorsport GT2 68mm Billet VTG Turbo Build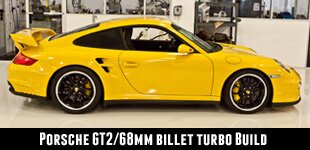 We normally have a constant stock of 65mm and 68mm Billet VTG turbos for the 997TT in order to reduce wait times for our customers. Well now GT2 owners can also take advantage of our "no-wait" turbo upgrades, since we're now stocking our 68mm GT2 Billet VTG upgrade as well!
So, on to the fun stuff. After spending a few weeks in his 997.1 Turbo Cab equipped with our full 68mm VTG turbo package, a customer of ours decided it was time to bring in his GT2 for some upgrades. Well….a few upgrades quickly turned into a full build! You can't have a tiptronic turbo cab that's faster then your GT2, right?? Everyone should have 2 700 whp 997's.
So here she is after arrival yesterday. The build will include our 68mm Billet VTG Turbo's, Champion exhaust manifolds, intercoolers, carbon y-pipe, GIAC programming, Tubi race exhaust, etc etc. Based on our last GT2 upgrade which used our 65mm Billet turbos (which made 688whp), we're expecting somewhere north of 700whp for this one.
Stay tuned, I'll update this regularly with pictures, info, and dyno sheets as soon as I have them.