Fast and Furious Five Trailer!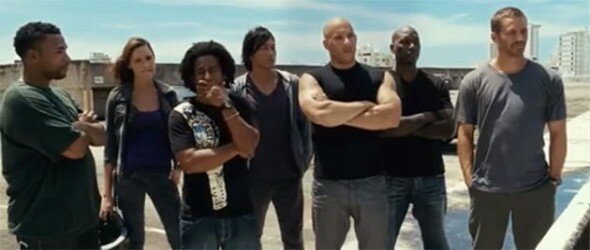 You can make fun of the series all you want… but you know you are going to watch the next installment in the Fast and Furious franchise. The fifth film, called Fast 5, is set to hit theaters (including IMAX) on April 29th, 2011. Paul Walker and Vin Diesel are back again reprising the lead roles of Dom and Brian. Also back are Jordana Brewster, Tyrese Gibson, Ludacris and Sung Kang (which is surprising since we're pretty sure he died in Tokyo Drift, no?).
Fast 5 takes place in Rio de Janeiro, where the crew is forced to perform "one last job" in order to earn their freedom. A new law enforcement agent stands in their way – played by none other than Dwayne "The Rock" Johnson. The film will surely be filled with plenty of gratuitous vehicular action that looks great on camera while breaking every conceivable law of physics.
The trailer for the film, which is available after the jump, features only a few clear shots at some of the cars in the flick. We spy (deep breath) an E39 5 Series, a pair of matte black Charger police cars, a modified 350Z, a resto-mod Charger, a few glimpses of parked Porsches, some assorted SUVs that are promptly trashed, an old VW bus, a Ford GT, what appears to be a Mongoose Motorsports Corvette Grand Sport Roadster replica, a Nissan GT-R and a few others we may have missed.
[Source: MovieFone]