Champion | Tial | PRI Trade Show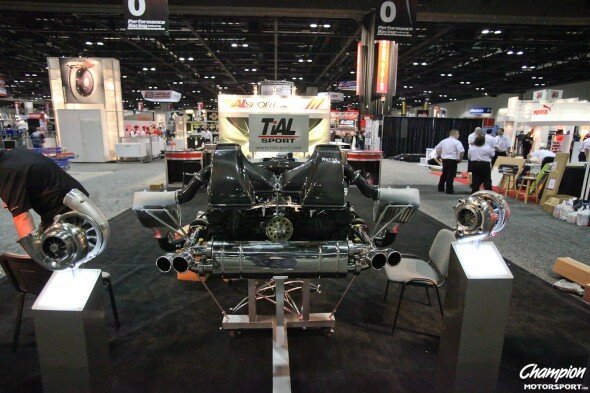 A few weeks ago we were approached by our partners at Tial to help add some Porsche flair to their booth at the 2010 Performance Racing Industry trade show in Orlando. Unlike other trade shows like SEMA, which include the entire spectrum of aftermarket parts, the PRI show is focused mainly on racing, going fast, and the parts you need to do it! You could say it's all about "go" and not so much "show".
Happy to oblige, we set out to put together a complete 997 Turbo engine with the full line of Champion Motorsport and Werks1 upgrades, including our Tial-manufactured 68mm Billet Turbochargers, CMS Manifolds, Werks1 Intercoolers, Werks1 Y-Pipe, Werks1 T-Pipe, Tubi Race Exhaust, and Werks1 Carbon Airbox. The parts were attached to a 997 Turbo block and placed on a really cool stand that was designed and built by our very own engineer Louis.
Here are some pics…enjoy!