Tubi Style – Porsche GT3/GT3RS Three-Pipe Center Muffler (Titanium)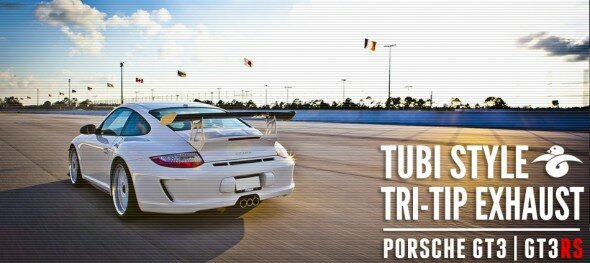 Improving the exhaust note of the GT3 or GT3RS is certainly no easy task. It requires a lot of knowledge, great raw materials, and in the case of Tubi's Three-Pipe center muffler, it also requires some 'outside the box' thinking. The factory center muffler on any GT3 model uses dual tips that share the duties of expelling exhaust gasses from the rear of the car, regardless of whether the side muffler sport valves are open or closed. In contrast, Tubi's Three-Pipe system features three uniquely designed tips that each have a very specific function under various driving conditions. The center tip is the main exhaust outlet when the sport valves are closed, while the outer two tips are dedicated to relieving the increased flow that occurs in Sport mode when the exhaust valves are open. The result of this unconventional design is not only a very unique look, but a noticeable improvement in performance and most importantly, sound.
Click Here To View This Item In Our Online Store.