The War Admiral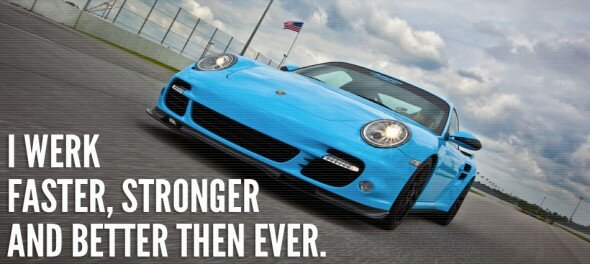 Introducing the Champion Motorsport "War Admiral" 997.2TT
We have been talking about this project for quite some time now, and many of you have read our postings of dyno results complete with lists of upgrades. Well here it is, the complete package, tested and proven. Fully exercised for a day around Palm Beach International Raceway, complete with full performance testing, experiencing ZERO mechanical glitches. In fact, the only tools taken from the tool box were the tire pressure gauge, and the tire pyrometer.
In this write up I will not go into detail about the meaning of "War Admiral" which by the way is the specific name of this car, not necessarily the name of our performance kit, but if you wish to understand the meaning have a look at this link:
http://en.wikipedia.org/wiki/War_Admiral
This car is equipped and tested with the following list of features:
Engine
– CMS Billet Compressor turbochargers with 68mm 7 blade wheels
– CMS (new for 2010) intercooler upgrade, including silicon hoses and hardware
– Werks1 carbon Y-pipe for 2010 cars
– CMS compressor inlet adapters (increased flow)
– Werks1 carbon air box for 2010 cars
– CMS exhaust manifolds, 3 into 1 equal length headers
– Tubi Style Race exhaust system
– GIAC high performance software proprietary to CMS
Aero and Body and Misc.
– CMS Forged Magnesium Center Loc Wheels 9X19 front, 12X19 Rear
– Michelin Pilot Cup tires
– CMS Werks1 Carbon Fiber rear wing and endplates
– CMS Werks1 997.2 Turbo rear diffuser
– CMS Werks1 Front Splitter
– Ice Blue Full body Vinyl Wrap
– Trim and mirrors in satin black
– Clear marker lenses
Interior
– Generally equipped as standard in black leather
– Porsche Sport Buckets carbon fiber race seats with folding backs
– Rear seats deleted
– Willans race harnesses with custom CMS mounting tabs for quick removal
– RSS (Road Sport Supply) rear rollover bar
Suspension
– PASM dampers left completely as standard
– CMS H&R lowering spring kit
– Forged Porsche Motorsport "997Cup" arms with camber shim adjustment
– RSS Spherical bearings in lower arms
– RSS Adjustable Spherical bearing rear upper arms
– RSS front and rear adjustable anti roll bars with adjustable drop links
– RSS Rear Bump steer adjustable toe linkage
– (Prototype) RSS front adjustable bump steer toe linkage
– 1.9 deg. front and 2.8 deg. Rear camber
– .5 mm total toe in front 4 mm toe in rear
– Corner balanced with 180lb driver ballast
All testing was conducted by International Journalist Ian Kuah, and the car was tested in "Step 1" power mode with "Sport Plus" mode active, utilizing the PDK launch control. As you may recall from our 4wd Mustang dyno testing, Step 1 CMS power is recorded at 542 whp and 527 ft-lbs torque, following a baseline of 431 peak WHP, and 425 ft-lbs of torque. Ambient temperature was 81F with a relative humidity of 73% during this part of our day. The alignment was not adjusted between on track testing and performance testing, and the Porsche Standard of ¾ tank of 93 octane premium pump fuel was added.
We conducted 3 tests using a RACELOGIC Performance Box (V-BOX) and they were all consistent.
0 – 60 2.6 sec.
0 – 100 6.1 sec.
Standing ¼ mile – 10.6 sec. @ 133.2
All runs experienced some level of wheel spin, and results on a proper drag strip may be improved. All runs were also conducted using the full Werks 1 aero package which although improves down force and stability at speed, down force certainly adds drag at the speeds achieved during ¼ mile testing.
For those of you familiar with Palm Beach International Raceway (PBIR), the car was able to achieve lap after lap top speeds of 156.6 mph, and complete closed course lap times as driven by Ian Kuah at 1:28.5 in a rather conservative driving style.
Our Cover Article In Excellence Magazine!