The All New Magnesium Centerlock Wheel – MM20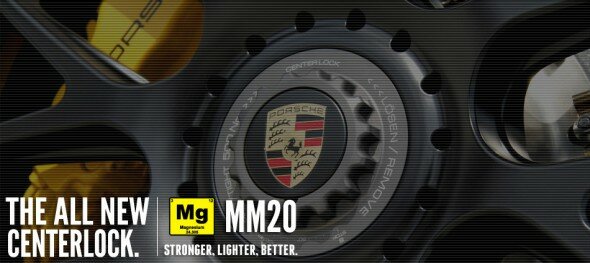 With the newer engine and performance technology being used more and more frequently in modern day sports cars, the line between pure race car and street car is becoming increasingly blurred. A perfect example of this evolution is the new centerlock wheel option available on several 2010 and newer Porsche 911 models. Typically used in pure racing applications because of the ability to remove and replace wheels very quickly, centerlock wheels eliminate the five individual lug bolts and replace them with a single central locking nut to secure the wheels in place. The MM20 takes centerlock wheel technology one step further by adding a 100% forged magnesium construction, another element typically only found in dedicated professional race cars.
When compared to aluminum, magnesium is roughly 30% less dense and, consequently, much lighter by volume. Additionally, magnesium possesses a much higher fatigue strength then aluminum as well as a significantly higher ultimate tensile strength. The primary benefit of using magnesium in automotive wheels, however, is not simply its lighter weight. Because the material is lighter then aluminum, a larger cross-section of material can be used in each wheel, effectively increasing the overall rigidity of the wheel without any compromise in weight. A stiffer, lighter wheel means reduced unsprung weight along with more direct steering and suspension feedback. In fact, although each MM20 is nearly 25% stiffer then it's OEM counterpart, the weight of each wheel is still lower, coming in at 19.55 pounds per front and 22.45 pounds per rear (compared to 23.25lbs and 26.65lbs respectively). Even more impressive is that fact that the overall width of the MM20 is .5 inch wider per front wheel and 1 inch wider per rear, allowing the use of wider 325 series tires for greatly improved traction.
For more information about the MM20 or to check availability for your car, feel free to give us a call or simply click the live-chat button above and be connected to a Champion Motorsport wheel expert.