Proven Champions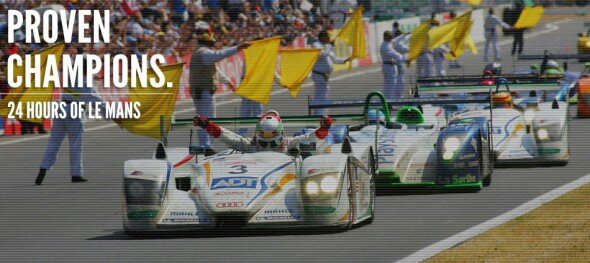 LE MANS, France. (June 19, 2005) – In front of over 230,000 spectators and approximately 2,000 media representatives, Team ADT Champion Racing and the No. 3 Audi R8 piloted by JJ Lehto, Marco Werner and Tom Kristensen, crossed the finish line in first position in what will be remembered as one of the most fiercely contested races in the history of the event. In doing so, Team ADT Champion Racing re-wrote history for an event that dates back to 1923.
For Dave Maraj, owner of Champion Racing (Pompano Beach, FL), winning the 73rd 24 Hours of Le Mans fulfills a lifetime achievement that began back in 1993. Not only is this win significant to Maraj personally, but it also marks the first time in 37 years that an American team has won the coveted 24 Hours of Le Mans trophy. The elusive trophy will now travel across the ocean and live for a year under the sunny blue skies of southern Florida.
"For us, this win is everything, " exclaimed a jubilant Dave Maraj, Team Owner, Champion Racing. "To be able to win Le Mans after all these years of trying is just an absolutely amazing feat. And now it's given us the taste that we want to come back and do it again."
For the drivers of the winning Audi R8, earning this checkered flag signifies three very important accomplishments. JJ Lehto (Finland) now celebrates his second Le Mans win, the first having been achieved in 1995. Marco Werner (Germany) celebrates his first Le Mans win and completes a motorsports tri-fecta by winning the three most prestigious sports car endurance events in the world: the 24 Hours of Daytona, the 12 Hours of Sebring and now the 24 Hours of Le Mans. The most significant however, would be that of Tom Kristensen, as he will now be known as the most successful Le Mans driver ever. Last year the Dane celebrated his sixth victory at the French 24-hour classic and equaled the record held by the Belgian Jacky Ickx. In only his ninth Le Mans appearance, the Audi "works" driver is now the first driver in history to claim a seventh victory.
As expected, the Audi R8 sports cars were not the fastest cars in the field due to the handicaps imposed by the regulations. Thanks to the low fuel consumption of the Audi Turbo FSI engine, however, the Audi drivers could complete up to 13 laps on one tank of fuel. The Pescarolo-Judd that had started from pole position, had to refuel for the first time after eight laps despite being allowed to race with 10 liters more fuel tank capacity.
Now the Audi R8 can retire with it's last, well deserved honor. It's fifth win at Le Mans. "What a magnificent send off to the greatest racing car the world has ever seen," commented Johan de Nysschen, Executive Vice President, Audi of America. "Nothing could stop the Audi R8. The victory was ours in a very convincing fashion and Audi is on a roll. Nothing is holding us back and the future is even greater."
"I'm very proud of Champion Racing and what these gentlemen have achieved over the last few years," commented Rod Bymaster, Motorsports Manager, Audi of America. "They've risen to the point where they are the number one sports car team in the world. They've won the American Le Mans Series, they've won the 12 Hours of Sebring and now they've won Le Mans. They are the best sports car team in the world. No one can dispute that now."
DRIVER QUOTES:
TEAM ADT CHAMPION RACING AUDI R8 #3
JJ Lehto (Fin). Age: 39. Born: Espoo, Finland. Lives: Monte Carlo, Monaco:
"Ten years ago when I won it the first time, I didn't really understand what it takes and what it means but now all the work we have been doing in the last years with Champion Racing, it just now is paying us back."
Marco Werner (D). Age: 38. Born: Dortmund, Germany. Lives: Ermatingen, Switzerland:
"I feel so fantastic, so great. I can't believe it. Le Mans was always a goal for me so I am quite happy. This was not just about the driver's job. It was a team job: teamwork, pit-stops, strategy, everything was very important. The Audi was perfect, as always. It delivers every time, every time."
Tom Kristensen (Den). Age: 37. Born: Hobro, Denmark. Lives: Monte Carlo, Monaco:
"It's fantastic what we took from Sebring as a crew and made this one possible. Without the strong desire from Mr. Maraj to come here, I would never have had the chance to win my seventh victory. I drive full-time for DTM so I thank Audi AG for allowing me the privilege to drive for Champion Racing. This year was an extreme pleasure because of winning with these penalties. I also want to thank the Danish sponsor on our cars, Jyske Bank. It makes me extra motivated to do well."
TEAM ADT CHAMPION RACING AUDI R8 #2
Frank Biela (D). Age: 40. Born: Neuss, Germany. Lives: Monte Carlo, Monaco:
"We had a little bad luck and a few problems so I am happy that we were on the podium. Third place is always hard but still, this is the biggest event so to be up there, I am quite happy. The guys did a brilliant job, especially our crew, as it was their first Le Mans race. They made no mistakes."
Emanuele Pirro (It). Age: 43. Born: Rome, Italy. Lives: Monte Carlo, Monaco:
"It's been a great day for Audi and Champion Racing. The R8 can retire in glory and Champion Racing can now bring the trophy home to America. I'm a little sad because we had a very good car but our luck wasn't so good, again."
Allan McNish (GB). Age: 35. Born: Dumfries, Scotland. Lives: Monte Carlo, Monaco:
"It's a proud moment for everyone within Team ADT Champion Racing. From a personal point of view, it rounds out my podiums as I've now finished first, second and third here. Knowing Mr. Maraj since 1999, seeing the development of the team, I honestly could not believe they could have achieved so much in such a short space of time. It's just a testament to everybody in Champion Racing how they attack their motor racing and how they go for the big goals, not just the little ones."
DRIVERS CAR Laps
1) JJ.Lehto/M.Werner/T.Kristensen Audi R8 370
2) E.Collard/JC.Boullion/E.Comas Pescarolo Judd 368
3) E.Pirro/F.Biela/A.McNish Audi R8 364
4) F.Montagny/JM.Gounon/S.Oretelli Audi R8 362
5) O.Gavin/O. Beretta/J.Magnussen Corvette C6-R 349